Hypothesis
Events, and stadiums with traditional bar service, will generate a lift in revenue if smart vending is available to attendees as a channel to purchase RTD (ready to drink cocktails). The use of smart vending to augment traditional bar service is a profitable, safe, and effective way to mitigate hospitality labour shortages.
Background
The hospitality industry has struggled to survive the business disruption caused by the COVID19 global pandemic. 
The beverage alcohol industry is a survivor.  From economic drops to deep recessions, it's maintained a steady level of financial stability.  Covid-19 has changed that dramatically for alcohol consumption at events and on-premise/restaurants and bars. According to data in 2018, off premise sales totaled roughly 47% and on premise sales equaled 53% of alcohol consumption. When on premise dining and drinking became unavailable, the volume shifted to off-premise (ie: at home) consumption. As events are running again, and people are eager to gather to celebrate, the demand is shifting back to the bars, restaurants, and stadiums – but the people serving alcohol have moved on.
How The COVID-19 Pandemic Is Upending The Alcoholic Beverage Industry
Hospitality Labour
Events began running again as of late 2021 but the hospitality industry encountered another barrier to success as human labour resources became scarce. Many hospitality workers who saw their employment interrupted during the pandemic, found permanent work in other sectors. In 2020, out of 3.5 million people who have temporarily quit working. 1.2 million (34%) were from the hospitality industry. With 300,000 Canadian baby boomers retiring in 2022, many of their "good" jobs in offices and administration became available for people wishing more stability, income, and health benefits. The hospitality industry jobs tend to be overwhelmingly unpredictable in terms of these key benefits.
The hospitality industry has struggled to fill the void with new employees. To compete with higher paying jobs, hospitality has been pressured to increase wages, benefits, and work/life balance – a tall order for an industry trying to recover from the devastating impact of the COVID shutdowns.
Larger hospitality operators have begun to weave technological solutions into their operations to support human workers by having technology focus on repetitive, transactional tasks, so the remaining human labour can focus on more creative, strategic, problem-solving activities. This step in the evolution of business operations is known as "the future of work" where humans and technology work side by side. 
Ghost Bars:
A "ghost bar" is a delivery/pick up only bar which includes automated merchandising (smart vending). The consumption is often done off-premise but with an operational model that sees a ghost bar run alongside of the human talent, great advances can be made in service levels and profitability when labour is scarce. 
Smart Vending:
A Smart vending machine is different from an ordinary vending machine in that it uses software and technology to monitor inventory in real time.  These smart vending machines also accept electronic forms of payment and increasingly, the technology can also vet for age of majority, and collect valuable marketing data such as foot traffic, average sale, product queries, gender.  Smart vending machines can have access to customers in locations that are not ordinarily viable, they operate 24/7, do not require staff or significant upkeep and keep costs lower. The technology can alert operators to inventory levels so the machine can be replenished at key times to avoid out-of-stock situations.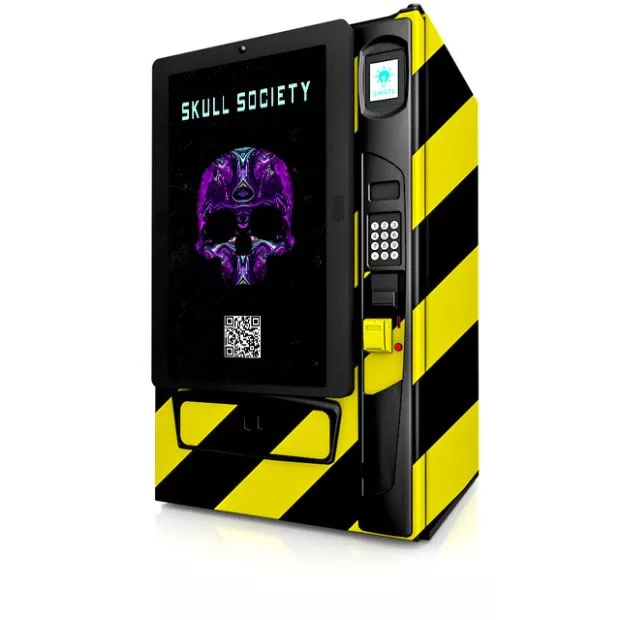 RTD Cocktails:
Ready to Drink Cocktails (RTD) have experienced explosive growth since 2020. Food delivery boomed during COVID lockdowns and many areas began to allow restaurants to sell mixed cocktails with the off-premise food orders. As hospitality has opened up again, the desire for spirits/based mixed drinks has grown exponentially. According to the Distilled Spirits Council of the United States, their research indicates that growth in revenue for RTD cocktails in 2021 over 2020, far out-paced other beverage alcohol options. Pre-mixed cocktails, spirit-based RTD posted a robust 42% increase in revenue year over year while Tequila and Mezscal clocked in at 30%, Irish Whisky at 16%, Cordials at 15%, and Single Malt Scotch at 14%. 
Case Study
The Volatile Project Skull Society Halloween Party and SMRT1 Technologies Smart Vending Machines dispensing ready to drink, branded, prepackaged cocktails.
The Volatile Project is a Canadian-based hospitality company specializing in bespoke, art-inspired and technology-fuelled, customized, cocktail experiences and products. Cocktail Connoisseur by The Volatile Project is their first online on-demand cocktail ghost bar, focused on alternative delivery and accessibility. Curated by the company's master mixologists. Their RTDs are available in select private retailers across British Columbia and California through Uber Eats. The addition of smart vending machines is a natural extension of this business model.
SMRT1 Technologies:
 is a Canadian-based technology company providing SAS retailing software to the vending industry. The SMRT1 software allows retail, food-service, hospitality, and healthcare sectors to operate alongside of, or in place of human resources. The technology can drive profitability, eliminate theft / slippage, and collect valuable marketing data to help businesses grow faster.
The Event: 
The Skull Society Halloween party October 28, 2022 Vancouver
"Guests were transported into a Skull-themed wonderland on a journey of sound, visuals and flavors." (myvancity.com). The event included a visual experience of digital art (NFT). The Volatile Project / Cocktail Connoisseurs ran a traditional bar and SMRT1 Technologies provided one smart vending machine that contained 4 varieties of prepackaged RTD cocktails.
The attendance at the party was between 400 and 500 people flowing in and out of the venue between 8pm and 3 am. All attendees were admitted with proof of age so there were no concerns regarding age restrictions within the event.
It was visually noted that attendees were primarily aged mid twenties to mid forties and evenly split by gender. Though the smart vending technology is capable of capturing this data digitally, it was determined for this event to gather this information observationally and focus the technological execution on delivery, payment and customer experience. Data gathered by the smart vending machine focused on product type, time of day, and revenue.
The products in the machine included: 
PURPLE DREAM:
Gin, Butterfly Pea Flower, Lavender, Honey, Lemon
WILD SUMMER:
Tequila, Passion Fruit, Lime
TOKYO DRIFT:
Tequila, Grapefruit, Bergamot, Yuzu
HOT & CRAZY:
Vodka, Blackberry, Hibiscus, Jalapeno, Lime
All RTD beverages were line priced at $12 per pre-packaged serving including tax, tipping was not prompted by the vending machine. 
The traditional bar served mixed drinks and beer. The mixed drinks were served with some "mixology-theatre" including lights, smoke and retailed for $15 each. Beer retailed for $10 each. Operationally, the bar was run by fourtwo people, the smart vending machine was monitored by one person, (hands off, as guests processed their own transactions) to collect observational data, answer questions, and fix any technical glitches should it be needed. Due to venue space constraints, the vending machine was situated in the lobby of the event space, visually removed from the main bar. Its presence became known through word of mouth at the event.
The event was very successful and the main bar brought more inventory to the venue twice throughout the night and ran out of product towards the end of the night. When we look at the corresponding time frames for activity at the vending machine (horizontal axis figure 1), it's clear that the smart vending machine worked alongside the traditional bar throughout the event and became much busier when the main bar ran out of product or became too busy towards the end of the night between 2:00 and 3:00 am.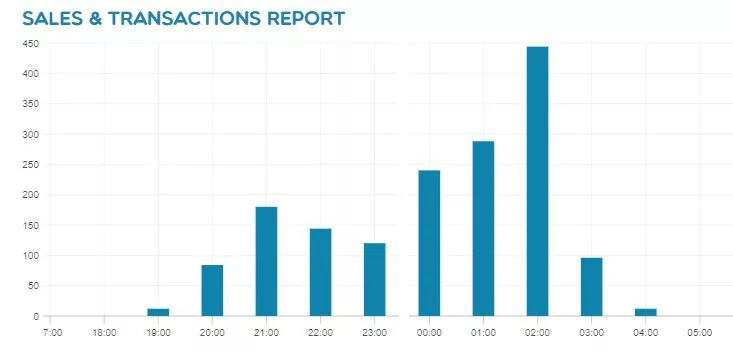 A major draw to the event was an Augmented Reality NFT artwork of a skull. The image projected itself out of the front of the vending machine when a guest scanned the QR code with their phone. (Note: Will insert link to a video here or an image of the NFT). The novelty of the special effect helped to draw attention and commerce to the smart vending machine but it's estimated it slowed transaction time by about half a minute.
The vending machine processed 135 transactions throughout the event, generating $1620 in sales. The main bar generated between $5000 and $6000 in sales. The total sales between the bar and vending machine exceeded the projected sales target for a similar event with only a traditional bar serving beverages.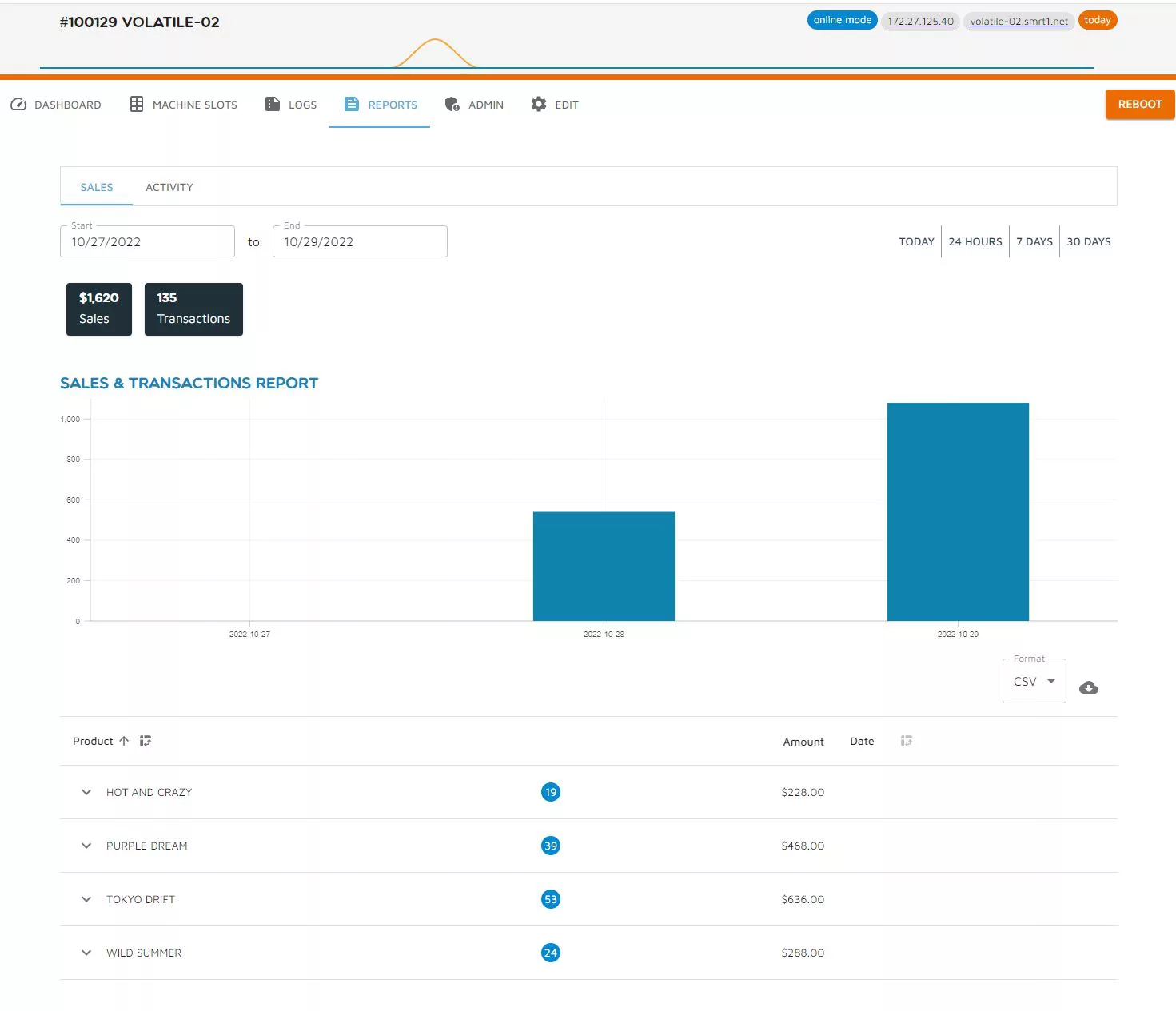 The most popular flavour sold through the smart vending machine was the Tequila-based Tokyo Drift, aligning with the current popularity of Tequila. Tokyo drift sold inventory. Purple Dream, a Gin-based RTD cocktail sold 78% of its inventory, Wild Summer (also Tequila-based) sold 32% of its inventory, Hot & Crazy, a Vodka-based RTD cocktail sold 29% of its total inventory. By the end of the event, 61% of the total bottles in the machine were sold.
Conclusion:
The addition of a smart vending machine boosted sales when the main bar was too busy or out of stock and succeeded in generating an overall sales lift beyond what would have been realized with only a traditional bar in operation. This technology will be employed in future events to fine tune the delivery. Changes to the operational plan will include: ensuring the machine can be placed closer to the traditional bar, separating the NFT/AR element so it's on a separate screen closer to the machine but not impeding the speed of transaction. 
The smart vending delivery channel can also verify age of majority for events where this is not a prerequisite of attendance, and dispense breathalyzer tests, test strips for drink safety from tampering after purchase. These additional benefits have a harm reduction component that creates a safe event for the guest and operator. 
For venues with large crowds where attendees have only 15 minutes during intermissions to line up for a beverage and have a restroom break, the smart vending machine can offer a fast, safe, profitable channel to capture sales that might otherwise be lost due to time constraints.
In conclusion, the addition of a smart vending machine to dispense RTD cocktails, is an effective means to capture sales that might otherwise slip due to operational limitations of traditional service.