Smart vending machines are considered an essential aspect of omnichannel retailing. Smart vending machines are the bridge between online shopping and bricks-and-mortar retailing. Omnichannel retailing is defined as a strategy that focuses on delivering a great customer experience and one that fosters better relationships with customers across all points of contact. Omnichannel retailing means you no longer have your channels working in parallel to each other but in sequence, much like a relay race, and SMRT1's vending machines are part of that customer journey.
In the traditional customer buying sequence, clients would arrive at the mall or supercenter for a bit of retail therapy. Browsing aisle after aisle, they are mentally exhausted deflecting guided marketing to find the products that are competing for their attention. Since the onset of the COVID-19 pandemic, clients have chosen to forego the physical location excursion, instead of visiting their favorite brands online and foregoing the car ride. The ability to cross blend the brand experiences that also cross into the "likes" of Facebook provides a customer journey that involves consumers that self-educate beyond the simple instant gratification of yesterday's purchase behaviors.
Viewing the product online has provided the need to link additional metadata about the product. Not just color, size, or shape… but also recipes, calories, and a plethora of "verified" buyers that too, love that shiny thing with endless back-and-forth discussions. Consumers will research, contemplate, query message boards, ask friends, and in general, spend much more time validating their buying decision when the product is not directly in front of them or having crossed their path to stand out.
Social media influencers can plant the seed of inspiration, which with a few drops of curiosity from an online message board, proceed to send your customer on a validation journey. A purchase decision is time-insensitive until the consumer deems it necessary to change from a want to a need. Any smart marketing experiences that follow the customer journey will continue to weigh against the scales of indecision until the client finally says, "YES, I want it, right now." Does two-day shipping meet those needs and desires? How about if the products that are so desirable are also nearby in a smart vending machine, strategically placed to intercept their indecision and primal retail needs by providing instant dopamine release when that product is dispensed on-demand. That is the crux of "Personalized On-Demand" in the SMRT1 POD.
A visit to an ideally placed smart vending machine may be the tipping point for customers to react and purchase. Can your brand, products, and marketing also follow up with instant gratification?
A cohesive brand strategy aligned with omnichannel marketing provides the best bang from your marketing dollars. Coupled with the ability to instantly deliver products into customer's hands is the ultimate goal. Having the fullscale compliment of payment options is essential. Whether it is debit, credit, Bitcoin, and every other digital currency on the planet… if you've convinced a purchaser that it's "Go Time"… they are ready to tap and go.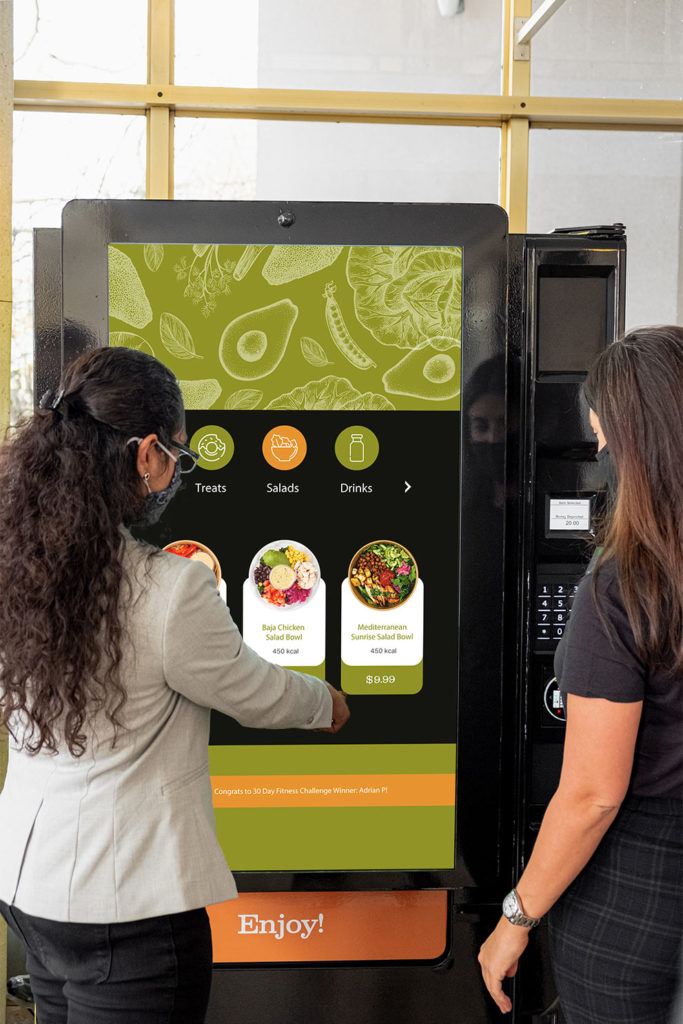 Omnichannel Marketing with Smart Vending Machines
Taking a consumer-centric view of marketing is essential, and the primary focus for how consumers interact with brands. From social medial to free sample giveaways, placing strategically branded reminders in multiple customer journey locations enhance your longterm potential to sell to your audience.
It's all about the size!
Go big or go home… a large-format interactive touchscreen is the game-changer. Enhance your customer experience with a consistent, identifiable brand tone and vision with 4K high-quality graphics. Customers don't have time to browse? Scan a QR code to "learn more" or send an SMS reminder of that next must-have item once you have them in your funnel. By the way, pairing a smart vending machine with a connected app completes the link required for you to measure the effectiveness of your campaign, consumer interest, and purchasing readiness.
If your content platform has "notifications enabled", you can drive up sales by recalling past interactions, browsing history, or predicting paths to revenue with complementing strategies. Facebook can help you find similar audiences for advertising, if you apply an identifiable brand recognition theme, consumers are more likely to interact consistently in their channel marketing.
While multi-channel and omnichannel are both concepts based on the idea of engaging customers across plural marketing paths, they are not interchangeable. A multi-channel strategy is more reflective of an operationally limited approach. The siloed approach of singular journey channels fades quickly with the ease at which clients can and do navigate to fulfill their retail needs. Clients search for you on Tiktok, Pinterest, Reddit, and a million other sites, if they can't hook even a small detail of your brand on their content engine, they may not find their way back to catch their attention.
Why settle for less? Your clients demand more, so should your brand. If your mindset is not on omnichannel marketing, your competitors may very well scoop the hard work your brand started and couldn't complete the sale. Taking the consumer-centric approach that keeps the comprehensive journey top of mind is achievable with turnkey smart vending solutions.