The team at SMRT1 Technologies is laser-focused on growing this company into an entity that will revolutionize direct to consumer retailing helping businesses be more profitable while keeping people safe and healthy.
These are noble goals – and we're passionate about them.
What's in it for You?
If you're reading this; it's likely because you have one of these goals yourself:
You want to do business with SMRT1 Technologies as a "smart retail" solution provider.
You're thinking of using smart vending as a way to dispense products or services to your customers.
You're considering investing in SMRT1 Technologies and you want to know if we're in it to win it.
Why Vending is a Tried and True Channel:
Vending isn't new – heck, it was invented in the first century BC by the Hero of Alexandria to take money in return for dispensing holy water. Apparently, people were helping themselves to more than their fair share and not paying. This kind of defeats the point of holy water doesn't it? We see this as the first big reason for our optimism for SMRT1's success because a retail solution that's been around this long obviously has staying power and stability, so we're taking that solid base and elevating it to a new level.
What's SMRT1 Technologies' Point of Difference?
Every successful company has a point of difference that marketers affectionately refer to as brand equity. To clearly define that point of difference you have to first be honest about the ways you aren't different. SMRT1 POD personalized on-demand promotes itself as:
Convenient
Scalable
Personalized
Safe & Secure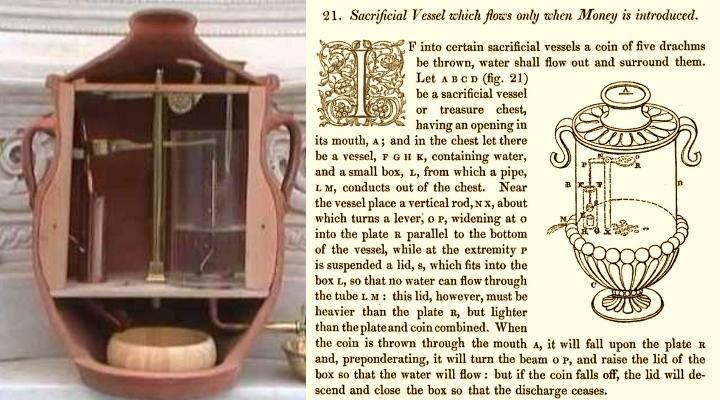 Convenience refers to the ability of the retailer to operate anytime anywhere and for the customer to make a purchase at their convenience. Many e-commerce solutions have an element of convenience but unlike online shopping, vending can deliver your item immediately with no shipping fees and no lost parcels.
When we refer to SMRT1 POD as scalable, we mean that once the retail experience is designed and the machines are rolled out – it's very simple to add on more machines to that infrastructure as your business grows. No more building a new store every time you want to grow. Many solutions are scalable but we feel ours is scalable at a much faster pace. It also means that the existing vending machine service network understands how to fill and service the machine to expand into new geographic regions.
Personalized: Now here's the key to SMRT1's unique positioning. Our software is platform inclusive, which means it can connect to a wide variety of APIs and custom apps. If a retailer needs stock rotation data or a specific customer interface display, SMRT1 POD can utilize existing technologies to deliver and improve on that user experience.
Safe and Secure: Vending is a very safe form of retailing because the product can't be touched by customers picking it up to look at it. All of the information the customer needs, and then some, is available on the cloud-connected screen and software. The product can't be stolen so the merchant can combat shoplifting. Smart vending machines can use cameras to verify the age of majority so controlled substances like age-restricted items can be dispensed safely to appropriate customers. Contactless payment and voice-controlled navigation mean fewer contact points which are a huge concern for retailers and the public.
These points describe what we mean by SMRT1 POD "personalized on-demand" but it's HOW we deliver on these elements that makes SMRT1 Technologies uniquely positioned to grow quickly.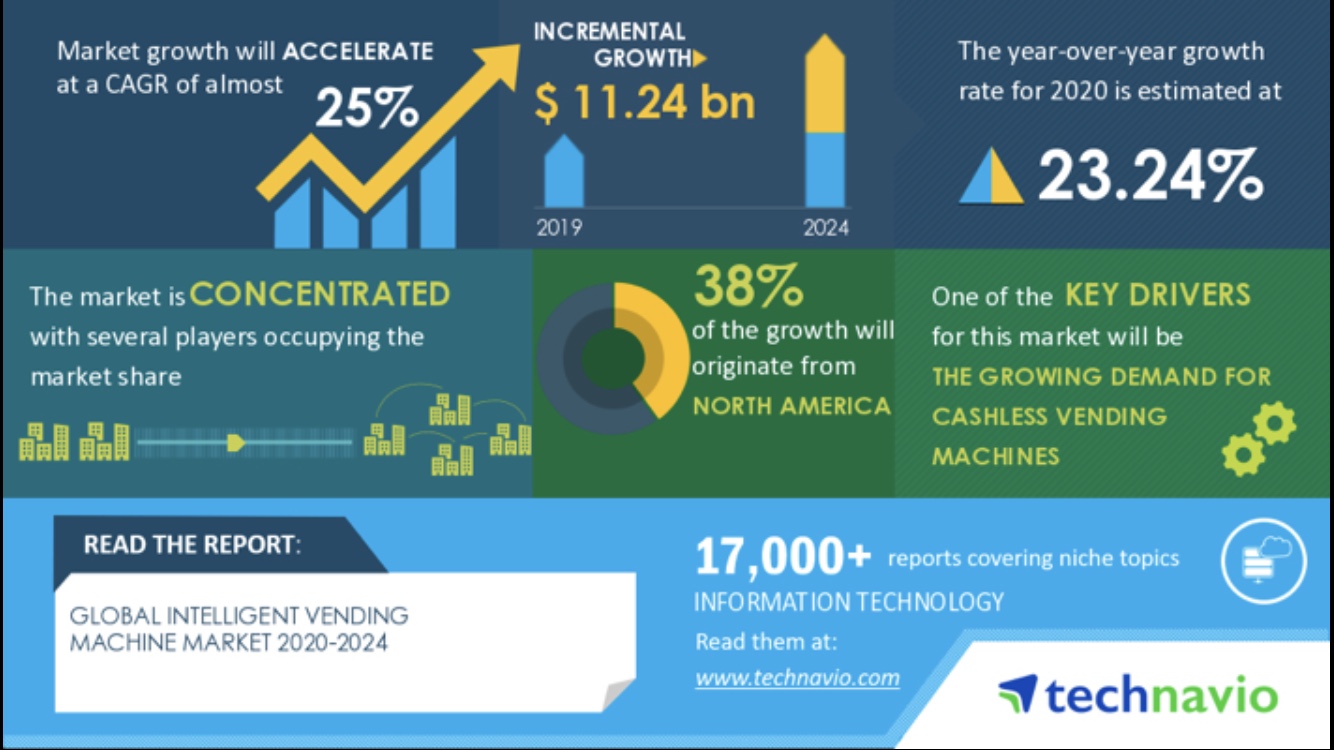 The Growth Potential:
Although we recognize there are other smart vending companies, the North American market is by no means saturated, and most competitors do not provide an affordable, centrally controlled, bolt-on technology solution. We've created a competitive grid here (insert link) to show the key players in our market. According to research by Technivo; the smart vending sector is projected to grow by 24% to $12 billion dollars by 2025 and 38% of that growth is projected to be in North America. The reason why the growth is weighted to North America is that we have been slower to adopt these technologies than other regions like China and Japan. That's about to change. The growth in IoT (Internet of Things) and a need for 24/7 contactless retailing fueled by COVID-19 pandemic concerns is causing research analysts for the smart vending sector to forecast brisk growth in the North American market and SMRT1 has scaled to the point where it can ride the wave of this momentum. Your investment will help us serve these new customers.
Our Point of Difference Today:
The point of difference for SMRT1 Technologies is our ability to get businesses up and running – faster, safer, more cost-effective, and with access to highly valuable interaction and transaction data aligned to their business goals and marketing strategies.
Our competitors in many cases are providing unique vending solutions with a finished machine installed with a one-size-fits-all software package. The time from order to roll out is often months because of production lag times and the retailer doesn't get the unique customer experience and data sets they really need. Costs for these solutions are $50K and upward with no ability to scale rapidly.
SMRT1 Technologies provides a bolt-on solution to the existing vending/kiosk industry and therefore can get customers up and running within weeks for existing or new vending machines at a much more affordable cost. A SMRT1 POD starts at $15K and a screen upgrade is only $7500.
We believe that the future of retailing will involve many types of businesses needing adaptive ways to deliver their products and services anytime, anywhere. Having an inexpensive, flexible solution that lowers the barriers to market entry will open up many avenues for us to service. We're already noticing that inquiries are coming from all different sectors; to date, we have orders or interest coming from retail, food service, tourism, healthcare, and industry (to dispense parts and supplies). Our biggest challenge has been balancing our MVP to provide an omnichannel focus because SMRT1 POD can morph into a retail delivery system for just about any industry.
Our Vision:
Our software is designed to be flexible so it will work with many other applications. This will continue to allow SMRT1 to customize the retail experience as we bring on new customers with special operational requirements. We see a world where we are partnering with many apps and web developers who will create unique and innovative digital tools that will make the SMRT1 POD a powerful retail delivery channel. We want to push the boundaries of this technology and to turn simple retail transactions into meaningful and measurable brand interactions.
Why We Believe We Will Succeed:
SMRT1 Technologies is powered by a specific team who have honed their professional skills by working at mid-sized to large organizations. Each team member has a key area of expertise that they bring to SMRT1 with roles carefully designed to ensure that we don't duplicate skills. You can read our bios here in more detail. Most of all – we have a strong work ethic and curiosity about our customers' needs and our own development.
The SMRT1 Team believes with every fiber of our being in the service we're creating for the smart vending sector and we're excited by the ways we can help businesses survive and thrive going forward.
Why Crowd Investing has Merit:
Let's be clear – investing in start-up companies is considered high risk. It used to be that only the very wealthy could write great big cheques to help promising new companies to get the capital they needed to grow. Not anymore, as government regulations have changed and platforms like FrontFundr have emerged; everyday Canadians can now participate in the benefits of start-up investing without remortgaging their homes. A start-up like SMRT1, with a true point of difference, a clear plan to grow, and a hard-working team, have many of the right elements for success. Investors can become SMRT1 shareholders for as little as $500 on our FrontFundr campaign. Canada needs more home-grown industry to broaden its economic base, investing in companies like SMRT1 is a great way to diversify your portfolio and support Canadian-owned technology companies.
These are the advantages we see of becoming a SMRT1 shareholder. Hopefully, we've answered some of your questions and if we haven't – please drop us a line at invest@smrt1.ca
As to "how" to invest. It's easy – just click the big blue button below. We would love to have you on board. 15-minutes from now, you could begin to help us build the future.
The SMRT1 Team