Smart kiosks can help your business grow by processing orders quickly and safely. A kiosk can work around the clock and make contactless payments and instant delivery a reality. A kiosk connected to a cloud-based content engine will give the customer personalized interactions that result in definitive and measurable increases in retail revenue. Kiosks offer speed and accuracy, providing self-service options customers demand. Ingenico reports that a kiosk can reduce order time by 40 percent and this enables a restaurant to serve more customers within a specified time frame. Excerpts from this article here show how kiosk sales are expected to accelerate post-pandemic.
Affordability
Smart vending machines selling tangible goods, outside of the traditional snacks and soda, will drive customers through omnichannel marketing directly to your brand. Since traditional vending machines have limited marketing potential, an upgrade with a large interactive touchscreen enables existing technologies to piggyback each other. SMRT1 POD attaches a 49″ high-definition display to an otherwise simple mechanical base. If you are seeking a cost-effective to expand your footprint, consider the 10 square feet of a smart vending machine that upgrades traditional technology.
Convenience
Be where your customers are. Pretty simple, cross their path with your marketing channels via digital signage, kiosks, or smart vending machines. Is your interactive marketing working well and you'd like to update your offering to instant product delivery or providing self-service ordering? No matter the hardware requirements, a single point of administration is essential to helping your business grow effectively. Convenience is a two-way street that can send your content to consumer devices such as a smartphone, so put yourself out there and offer your branded kiosk as a gateway to connect effectively.
Instant Delivery
Freshly cooked meal at 3 am? No problem with retail fresh food kiosks. With easy to dispense products in smart vending machines, no matter the customer craving, your brand and products can be offered instantly at any location. Consumers will increase their loyalty and plan their routes to include their favorite stops, only a tap away to pay for their goods. Can your store support 24-hour service? If it can, it's a heavy expense that can be reduced with automated retail technologies that replace the clerk behind the convenience store till. For locations with high-theft, smart vending machines also protect your business from sticky-fingered customers or employees.
Click and Collect
The content strategy of smart vending extends from large format interactive touchscreens all the way to personal consumer devices. Shopping carts and smartphone apps put your clients into the instant shopping mode they've become accustomed to. Smart kiosks can help with registration, check-in, and direct-to-consumer marketing opportunities. Instant gratification means waiting for two-day shipping can be reduced to 100 feet in "that direction" Interactive maps put clients on the path to intersect with your brand and business. The ability to reserve products or check local inventory at a nearby machine is de facto in any smart kiosk requirement checklist.
Unique Branding
Don't judge a book by its cover, but if your kiosk doesn't stand out, it's certainly not in consumer's crosshairs. Vinyl wrapping, aligned marketing strategy, and visual elements should be a unique as your own product and service. Don't blend in, but don't break the bank, your revenue depends on drawing gauze to the interactive content that is strategically aligning customer expectations with the marketing funnels set to deliver revenue on budget. Custom-built vending machines can be very expensive and technical confidence in unknown product distribution technologies leaves a gap in serviceability and adoption. By upgrading traditional vending machines into smart kiosk locations, businesses get the best of both new technologies and proven delivery bin accessibility.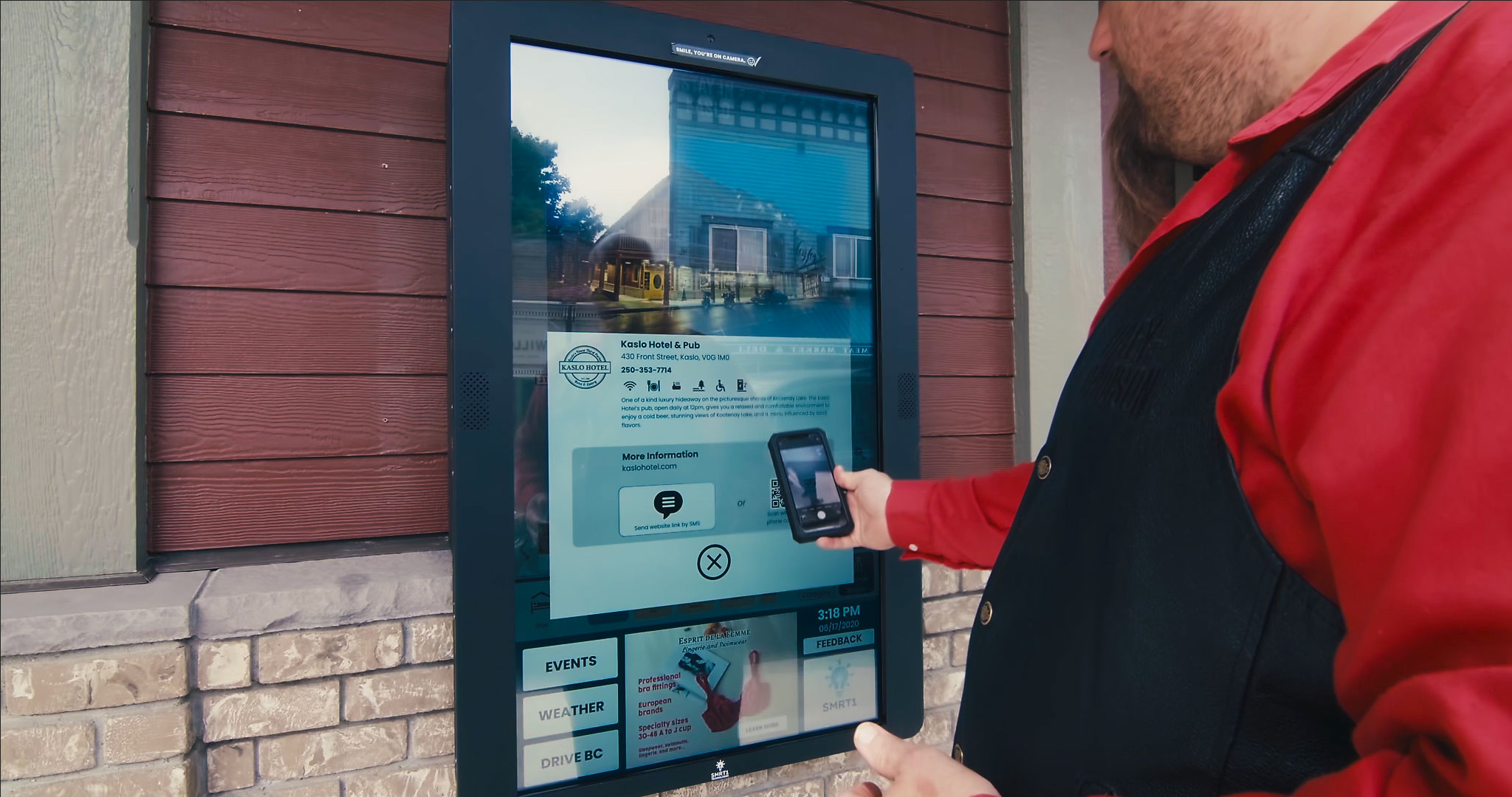 Are you effective in guiding your customer through the omnichannel maze that ultimately guides them to your storefront?
If you sell a sandwich that's stored in a machine and dispensed after payment, that's vending. If you sell a sandwich at a micro-market where the customer picks it up from a display and then pays for it — that's a kiosk. Vending machines often have a kiosk attached but kiosks aren't always connected to vending machines. Smart vending machines complement both digital signage, kiosks, and the new "connected" retail environment set to grow exponentially in the coming years via consumer devices. Don't get lost in trying to define your strategy based on devices, focus instead on consumer-centric engagements, and add the relative hardware components you need without losing sight of your organization's bottom line. Kiosks play a valuable role in guiding attention to your brand and to the end solution that finalizes the sale.