Prior to the global shutdown, we were seeing the rise of social commerce, cashless payments, BOPIS (by online pick up in-store), loss prevention and contactless, automated merchandising. The COVID-19 pandemic has accelerated these trends impacting businesses. The massive business interruption from March to June of 2020 has only reinforced the need for safe, reliable, engaging solutions that protect the health of the businesses we serve and their customers.
Things keep changing so rapidly that I've stopped anticipating the "new normal" and have started preparing for the "next normal".
Although we don't know if we're out of the woods yet or if there are more headwinds to come, it's clear that those businesses who have diversified their revenue streams and delivery channels are much better positioned to survive and thrive in the face of uncertainty. Smart vending is an additional channel for retailers to serve customers consistently and safely and can be a saving grace during operational limitations. In fact, smart vending has been on the front line of the COVID-19 crisis in Hong Kong to dispense masks to people using a preloaded payment card.
I continue to be amazed by the ways our SMRT1 POD (Personalized on Demand) solution can provide companies a way to strengthen their bottom line. In the last few months we've worked with retailers who are looking for a secure retail solution and see SMRT1 POD as a way to prevent in-aisle theft. Preventing this slippage represents millions of dollars being directed back to the balance sheet. We're also working with the foodservice industry to pivot buffet-style service via a slick branded SMRT1 POD, keeping food fresh, ensuring customer safety and providing robust data analytics allowing the operator to develop a business strategy based on deep insight. SMRT1's solutions also support tourism operators with a solution to delight visitors 24/7 via recommendations and wayfinding while tracking users, what they are looking at and traffic patterns.
SMRT1 POD is on the radars of several businesses looking for a way to deliver "click and collect" services in-store. SMRT1's solutions can act as locked-boxes where pre-ordered merchandise can be claimed by customers using a code texted to their smartphones, saving retailers staffing costs as well as not having to deal with replacing stolen items, while adding the much needed additional revenue streams.
We're most proud of the machines situated in the cities of Nelson and Cranbrook, and soon-to-be Vancouver. These machines are supporting harm prevention initiatives by dispensing face masks and hand sanitizers to people who need a controlled, safe way to access much-needed products.
SMRT1 Wellness Vending Machine
This is why we see smart vending as a way to protect our health. We mean it physically, financially and emotionally. SMRT1 Technologies' smart vending machines are chameleons and that's what makes them so powerful. Just about anything can be vended; from shoes to food, medicine to beauty aids …if you need to get it in your customers' hands, we can probably make it happen.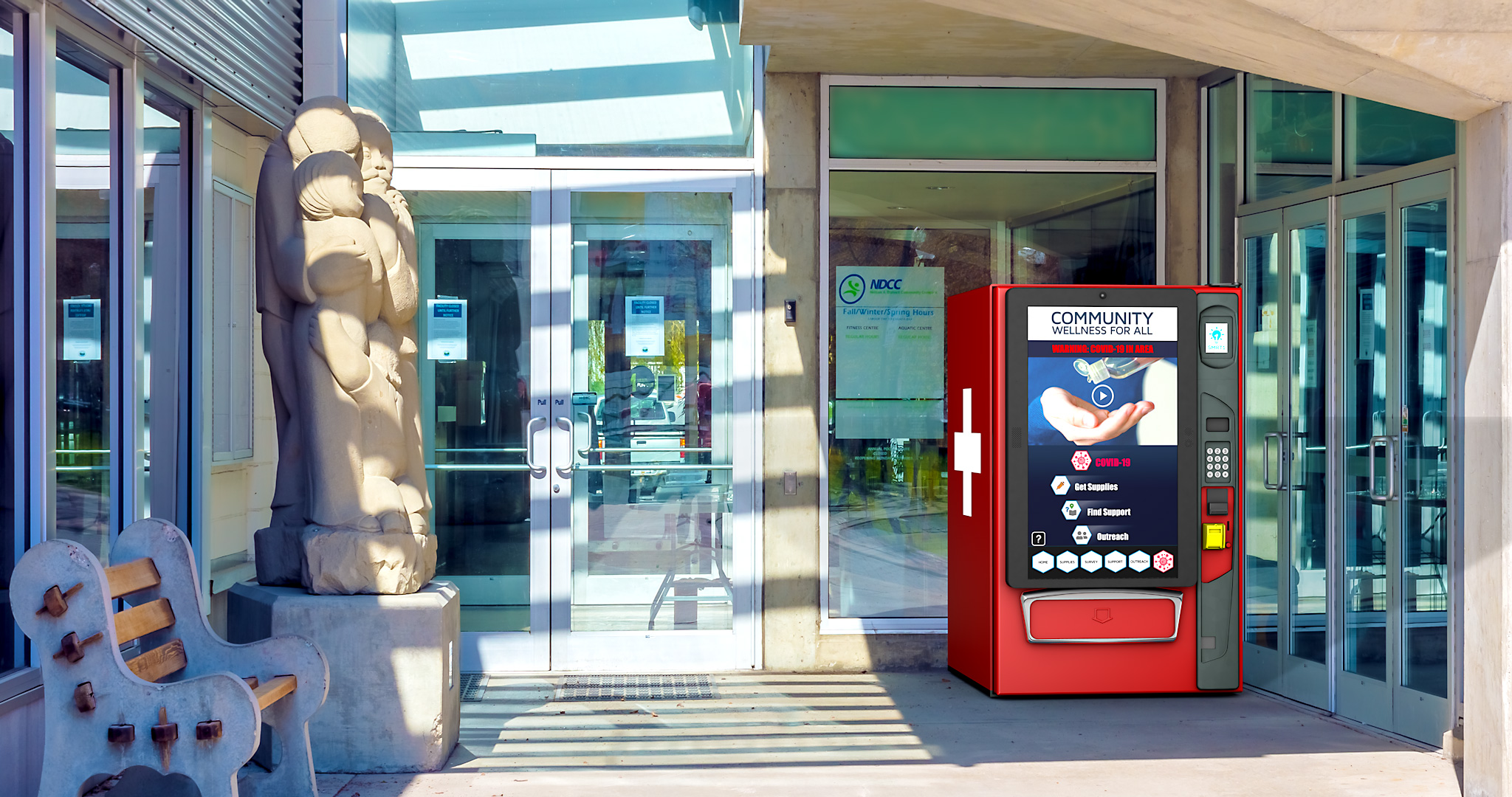 Our team has grown to a total of 6 people and we've got strength, experience and passion on the technology and product development side as well as business development, operations and marketing. We're all in sync with a shared vision…but each of us brings just enough of a unique perspective to keep the spark of innovation strong.
The North American vending industry is a greenfield market; according to the Global Intelligent Vending Machine Market 2020 – 2024, of the $11.24 billion in growth projected – 38% of it will originate in North America. The market is not saturated with players and SMRT1's POD is far more affordable and has more functionality than other solutions. The same way Shopify allowed small businesses to get into the e-commerce game, SMRT1's POD will help businesses get into the smart vending arena, quickly and affordably.
E-commerce sales by dollar have risen by 49% in April 2020 over the same period last year. Retailers like Best-Buy saw online sales jump by 250% as people set up home offices. This pandemic has hit us deep and hard and an event with this much significance happening to this many people is sure to create new habits that will last even when we shift to the "next normal".
This is why we're more excited than ever here at SMRT1; we are offering the world a solution that can have such a positive impact on the physical, emotional and financial health of our society. Voice activation technologies are part of our long list of features, allowing contactless transactions and digital payment capabilities ensuring a complete touchless purchase. With merchandise safely stored behind the touch screen, SMRT1 POD also eases customers uneasiness ensuring products are not handled by countless other shoppers. SMRT1 POD works for you 24/7 and can keep your business running ensuring it will still be there for you and your employees to return to when it's safe again.
We're continuing to build SMRT1 Technologies with investment from friends and family and soon we will have exciting news about how more members of the public can be part of this next great phase via our upcoming FrontFundr campaign. For more info visit smrt1.ca or reach out to us at info@smrt1.ca