Blog post by T. Sidhu, Business Development Specialist, SMRT1 Technologies
Last week I had the opportunity to attend the Shambhala Music Festival hosted at the neighbouring town of Salmo BC. Each year the festival brings together over 15,000 guests from all over the world, predominantly from Canada and the USA, in a celebration of music, community, and transformational experiences. This year was no exception, with herds of party goers and seasoned ravers entering the festival grounds from all directions ready to let loose, party hard, and immerse themselves in psychedelic amusement.
This was my first year at the Shambhala Music Festival, and it lived up to its reputation of being a bass heavy, love centric, dusty field of organized chaos! Beyond the music and large crowds, everywhere you looked there was something to both delight and challenge your senses, from the incredible artwork and stage architecture, to the elaborate costumes and ecstatic light shows, all of which were further enhanced by conscious drug-use and community spirit.
I was impressed to see the incredible efforts the organizers made to ensure the safety of those in attendance, with prominent placements of water refill stations, sanitary waste management services, and harm reduction services. However, as each day passed and more guests arrived, the lines for essential services grew longer and wait times increased. While waiting up to 30 minutes to refill my water bottle, I couldn't help but think about how convenient it would be to have smart vending machines strategically placed around the site, dispensing a range of essential supplies and services.
The dry heat alone made things more challenging with temperatures soaring to a sweltering 38 degrees celsius during the week. The thought of leaving the entertainment at the sheltered stage area to responsibly get in line to fill up my water bottle, then another line to purchase essential sundries such as sunscreen, seemed more challenging to me when battling the heat in that moment. If there was a smart vending machine nearby however, I could've gotten everything I needed within just a few minutes and continued to enjoy the entertainment guests pay quite the premium to see.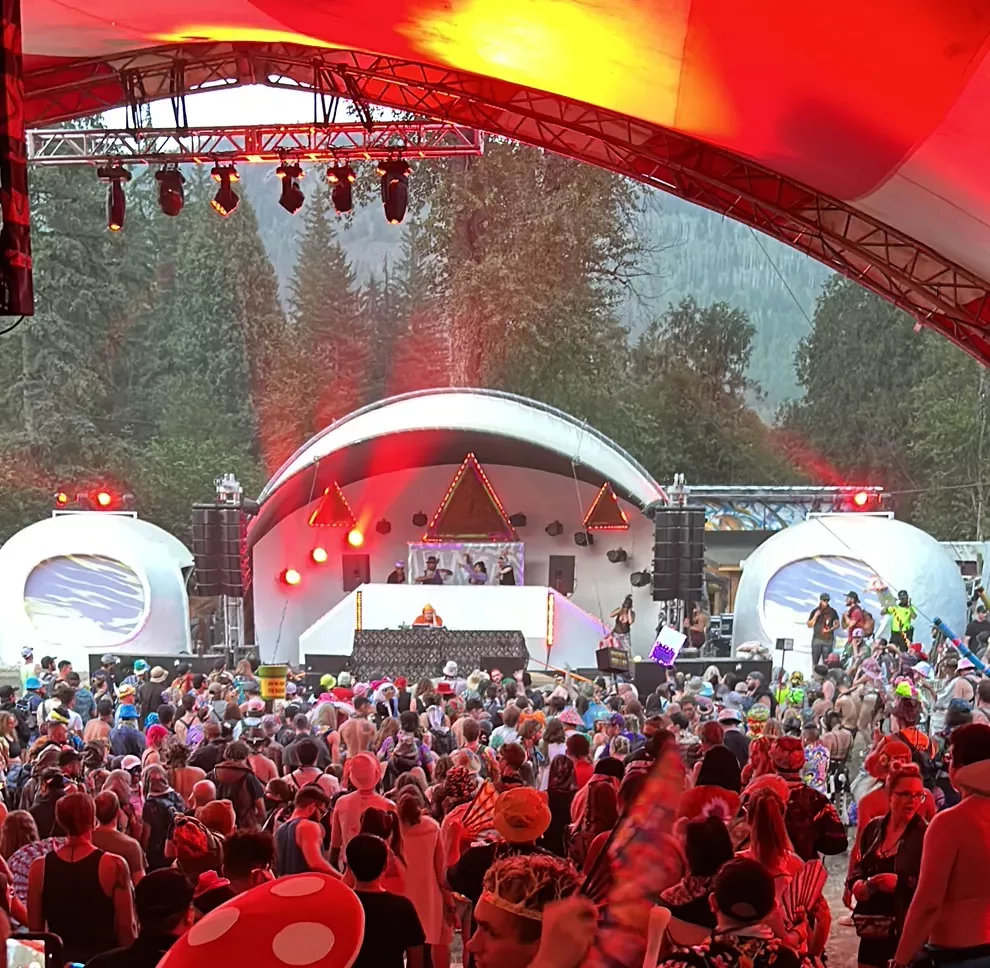 It was no surprise to see so many attendees suffer from extreme heat exhaustion and sun-stroke during the festival, something that could've been prevented had accessible solutions like a smart, refrigerated, vending machines been available nearby, dispensing essential items such as water, sunscreen, and energy drinks to keep attendees hydrated and protected from the sun. Not only would this improve guest experience, it would generate additional revenue for the organizers, and ease the pressure and reliance on staff and volunteers. Furthermore, because smart vending machines are managed remotely from a centralized cloud-based system, ensuring all machines are fully stocked and in working order at all times would make inventory management and the maintenance of these intelligent dispensing units a breeze!
But why stop there? It's no secret that guests at the Shambhala Music Festival were there to have uninhibited adult fun, so why not also take the opportunity to educate, inform and dispense the supplies required to ensure a healthy and safe experience? Especially where drug consumption and sexual health are concerned.
If you think of the mindset and state of mind of a young festival goer, what's going to be more effective and informative during the evening of psychedelic immersion, a static poster? Or, an interactive video complementing the immersive experiences around them? Our smart vending machines are fitted with a 4K 4ft interactive touchscreen display, so creating interactive and informative digital content to promote consent culture and encourage safe sex could go a long way in reducing sexual assault at music festivals, and reduce the spread of sexually transmitted diseases. Smart vending machines are still effectively units that dispense products, so festival goers can take the information they learn on screen into action, and obtain essential products such as rape alarms and condoms practically instantly, to keep themselves protected on festival grounds.
Also imagine how smart vending machines can improve the service delivery and access to harm reduction services. When I first arrived at the Shambhala Music Festival, I was pleased to see a huge line of young people queuing up at the Ankors harm reduction tent to get their party supplies drug-tested for lethal doses of fentanyl. However, much like the lines for water, I did notice a few folk frustratingly exit the line due to the extended wait times. This again made me think about the value of harm reduction vending machines and how they can improve service delivery.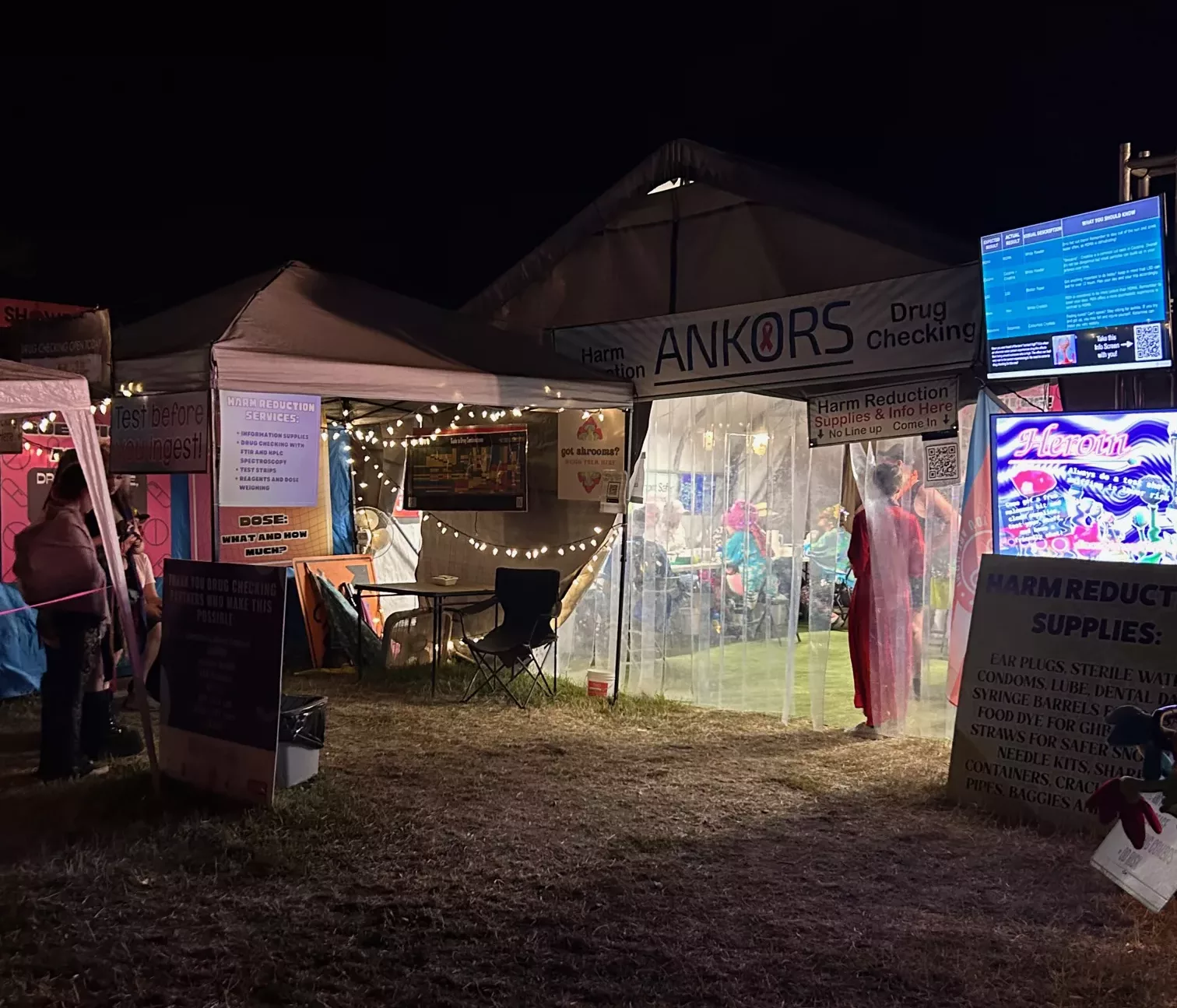 SMRT1 is already on the front lines of the opioid epidemic with vending machines for harm reduction deployed across Canada, and knowing first hand what the technology can do and has done to save lives, I was inspired to write this post. From interactive displays and intelligent product dispensing, to remote inventory management and real-time user data collection, it makes sense for large-scale music festivals such as Shambhala to adopt this technology to improve their duty of care and commitment to 'world-class harm-reduction services'. The machines can also serve as notice boards for missing persons, and even pop-up emergency alerts if, for example, a batch of fentanyl-laced party supplies is found in rotation, prompting folks to get their drugs tested, and directing them to the nearest harm reduction services tent.
They say the Shambhala Music Festival becomes the largest city in the West Kootenays, and with all the technology already in place to streamline guest experiences, why not turn it into the first and largest smart city in the West Kootenays? Starting with a fleet of networked smart vending machines designed to keep guests safe, informed. and out of harm's way.
If you would like to discuss smart vending machines for your business or service, please contact sales@smrt1.ca