The opioid epidemic is tearing through communities large and small throughout North America. Recent statistics from Canada's Health Infobase reveal a significant rise in opioid toxicity deaths, reporting over 20 deaths per day coming out of major provinces such as: British Columbia, Alberta and Ontario, and over double that rate, and rising, across the USA, with California, Florida, Ohio and Tennessee being among the states majorly affected by the opioid crisis, according to the Centre for Disease Control and Prevention (CDC).
Governments around the globe are desperately seeking solutions to combat drug related deaths, primarily opioid toxicity fuelled by synthetic opioids like fentanyl. According to a recent study approved by, The University of Pennsylvania and City of Philadelphia, public vending machines containing harm reduction supplies, such as safe injection kits, fentanyl test strips, wound care items, naloxone kits, condoms, and HIV-self tests, could prove to be a viable solution to combat the opioid and HIV epidemics.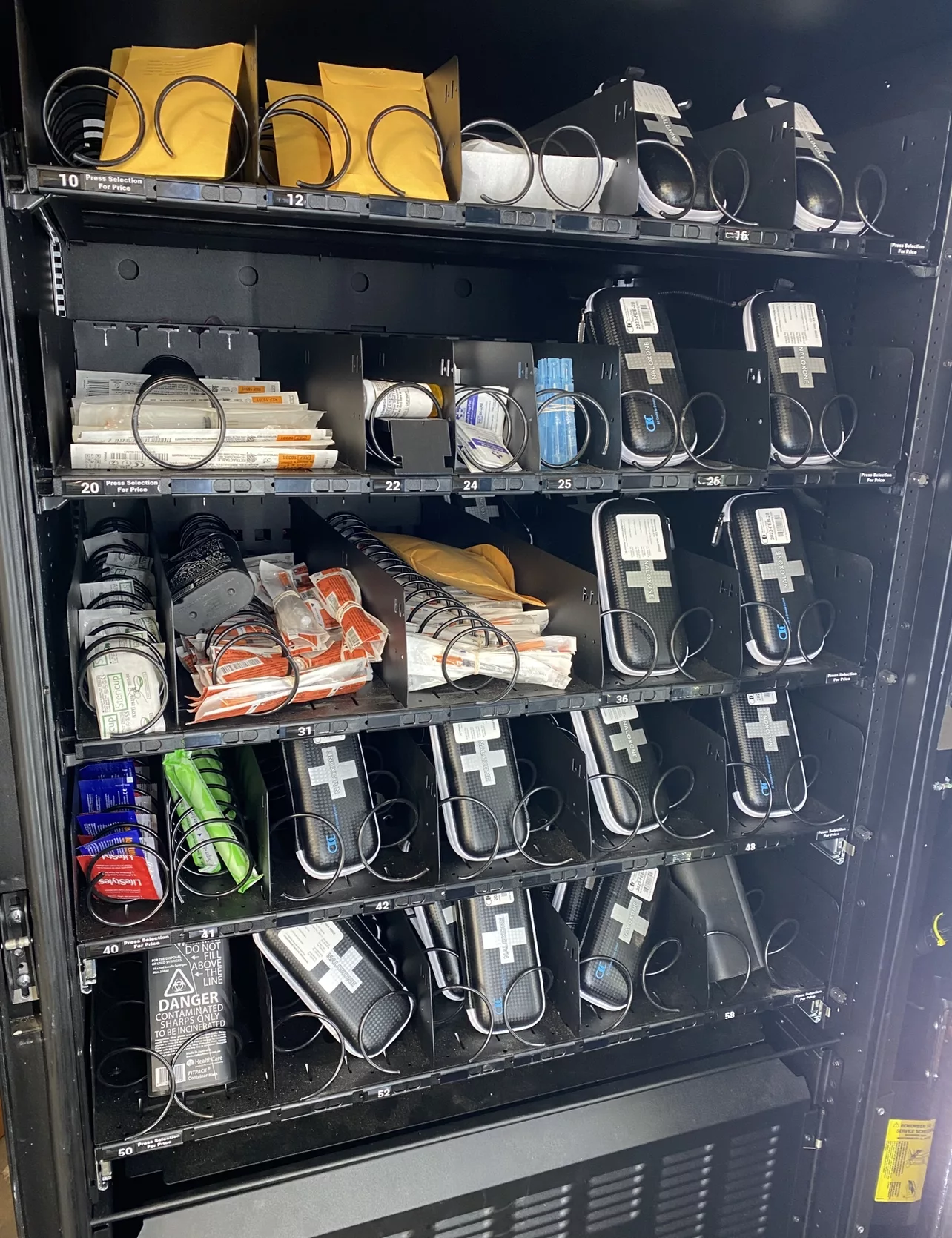 At SMRT1, we're dedicated to creating safe, secure, and easy access to healthcare services through intelligent product dispensing, telehealth services, and cloud-based monitoring. Our vision is to educate, encourage, and empower the communities we serve to make healthier life choices, and our revolutionary technology and community-centered approach make us the #1 choice for self-service healthcare solutions.
Our SMRT1 POD's are already on the front lines of this epidemic with almost 50 smart vending machines already deployed in cities across Canada, and with the support of our healthcare partners, we're working hard behind-the-scenes at our base headquarters in Nelson B.C., to deploy another 50 smart vending machines for harm reduction across the country. Not only will this help thousands struggling with addictions get free access to safe supplies, it'll provide a 24/7, judgment-free, and confidential service to those affected by the stigma of being an addict.
We first launched the SMRT1 POD back in 2018 as a smart vending solution for retail automated merchandising systems, and as the world descended into isolation due to the COVID-19 pandemic, we quickly realized how far our cloud-based technology could go. Our 4ft touchscreen technology, retrofitted onto a traditional vending machine, paired with our software and cloud-based service, provided a solution to safely and quickly dispense medical supplies and personal protective equipment (PPE), remotely manage inventory, and collect critical health and safety data* from front-end customer interaction. It was also realized that we had the technology to connect folks to nearby support and emergency services, keep them informed of the latest outbreak news, and educate them with videos on how to use self-testing kits.
With our POD's already working smart, dispensing essential harm reduction supplies, keeping our community members safe, and helping users find the help they need to begin their journey to recovery, we at SMRT1 have since found a new mission, smart healthcare. What use is technological innovation if it cannot be used to improve the quality and experience of our lives? We are learning very quickly how our SMRT1 POD's can be adapted and customized to alleviate a myriad of pressures on our healthcare system. Our innovative solutions can provide much relief to staff burnout, labor and provider shortages, the high cost of health care, the lack of services in rural communities, overcrowded facilities, long wait times at walk-in clinics, poor workflow challenges, and slow care delivery to name a few.
We're ready and willing to work with healthcare providers, pharmacies and pharmaceutical retailers, both private medical practices and public health services, community based organizations, hospitals and clinics, and other health providers to implement smart self-service health solutions that serve our communities and save lives.
To discuss your SMRT1 health solution, please contact: sales@smrt1.ca
References: 
Stewart, R.E., Cardamone, N.C., Loscalzo, E. et al. "There's absolutely no downside to this, I mean, except community opposition:" A qualitative study of the acceptability of vending machines for harm reduction. Harm Reduct J 20, 25 (2023). https://doi.org/10.1186/s12954-023-00747-4
Federal, provincial, and territorial Special Advisory Committee on the Epidemic of Opioid Overdoses. Opioid- and Stimulant-related Harms in Canada. Ottawa: Public Health Agency of Canada; June 2023. 
CDC/NCHS, National Vital Statistics System, Mortality. CDC WONDER, Atlanta, GA: US Department of Health and Human Services, CDC; 2021. 
*Smrt1 Data collection is in regulatory compliance.